We recently modernized Rev-Trac Insights to help SAP IT teams manage transports better. The new suite of apps, in combination with existing ones, let you see inside your SAP systems to prevent disruptions to business and achieve project success.
Each of the 12 apps has a specific focus. So, team members can quickly accomplish everyday tasks required to maintain a system at its optimum.
In this blog, we are going to put Watch Bot under the microscope. Watch Bot allows users to govern critical objects to prevent or monitor unauthorized change. The app provides immediate notification of changes to objects users are watching, or status alerts for systems under their control.
Watch Bot alerts are beneficial for SAP system administrators and developers to keep track of the health and data integrity of SAP systems. To receive notice, users set automated alert rules which inform them of changes in the system without having to check it manually from time to time.
Why do you want to set up alerts?
Making the relevant information available to the right people at the right time is often the difference between a successful launch and a not so successful launch. The sooner a critical issue can be identified, the faster it can be resolved. With automated Watch Bot alerts, SAP system communication issues and critical data changes can be identified immediately and acted upon to avoid any serious crisis.
How do you do it?
Watch Bot provides two types of alert rules that assist with monitoring SAP system health and changes to custom code.
1.   System alert rules
SAP system administrators can configure system alert rules to notify them when a system goes down/comes up, is restored/copied, or becomes active/inactive in Rev-Trac Insights. When such an event happens, the configured alert rule generates an alert that is emailed to the system administrator and can be dealt with as necessary. The email notification contains information about the event that occurred and also has a direct link to the alert to be viewed in Watch Bot.
A typical scenario: any SAP system from a landscape is not expected to go down with connection issues in the middle of a release cycle. A Watch Bot system alert rule can be defined to notify the SAP systems administrator when any of the systems in a landscape go down.
A user sets up a simple event rule (Figure 1) and the system alerts appear in Watch Bot (Figure 2). Each alert contains information about the event  that occurs (Figure 3) and the user receives a notification email in their inbox (Figure 4)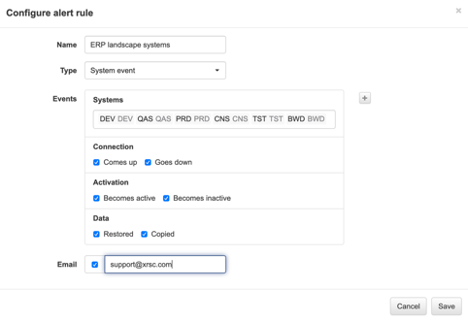 Figure 1

Figure 2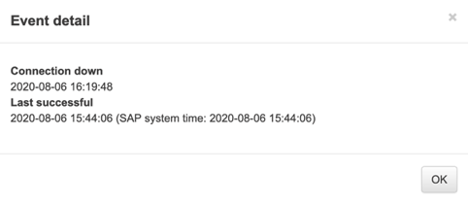 Figure 3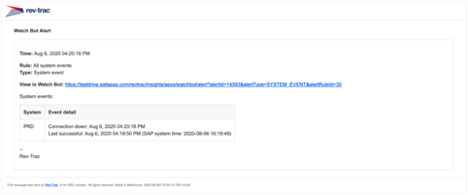 Figure 4
2.   Object alert rules
Developers can configure object alert rules for custom code based on the name, type, source system etc. to be notified of, to prevent or monitor any unauthorized changes.
A typical scenario: for an SAP landscape custom code, QA, and Production systems should not be modified directly.  A Watch Bot alert can be defined to notify the development manager when an object from either QA or Production is modified.
In Figure 1, a simple object alert rule for the PRD system to monitor any unwanted changes to any object from ZDEV package is defined. The object alerts appear in Watch Bot as in Figure 2, and the user receives an email (Figure 3) if an object is changed.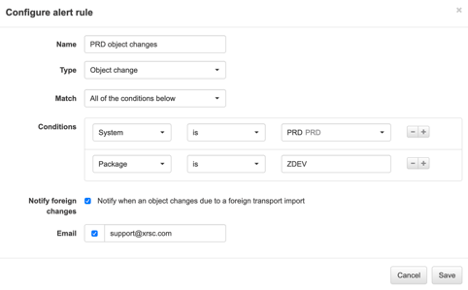 Figure 1

Figure 2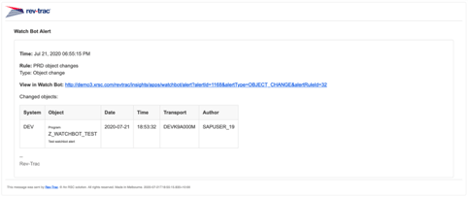 Figure 3
For more information on Watch Bot or the entire suite of Rev-Trac Insights apps please contact one of our SAP change management experts or visit here.