How to use SAP change automation to get the best out of your SAP investment
Damien Markwell | November 26, 2020
It's no secret that ERP systems are a significant investment in time and money. Yet, SAP change automation can help to improve efficiencies and significantly reduce costs.
Why is investing in an ERP system costly? Firstly, implementations are notorious for being time-consuming and expensive.
Factor in ongoing expenses — such as staff resources, maintenance and upgrades, and customization — and costs can spiral upwards rapidly.
The cost of SAP change is rarely calculated, not well understood, and too often poorly managed.
Costs mount up swiftly, not from creating or coding the changes, but from the time and effort to guide the changes from requirement to productive use.
SAP change costs vary from organization to organization but are commonly between US$150 to US$350 per change, depending on the complexity of both systems and processes.
Simultaneously, SAP IT teams are under pressure to continually introduce improvements, configuration changes, interface developments, upgrades, fixes, and business process changes into these productive environments.
SAP change automation is a panacea for these ills.
Why would you consider SAP change automation?
Customization and demand for enhancements create change management challenges that can impact the business values from your SAP systems. These include:
Managing increasing volumes of change
Enforcement of compliance with system change governance processes and authorization procedures
Creating reliable audit trails revealing who authorized, made, moved, tested, and accepted changes
Maintaining links between business issues, documentation requirements, technical changes, and the change management process
Tracking, monitoring, and controlling all system changes across all landscapes
Keeping the sandbox, projects, and N+1 systems synchronized
Ensuring proper migration of transports to prevent inadvertent out-of-sequence delivery of changes into production (overtaking and/or overwriting)
SAP change automation is crucial to overcoming the challenges and getting the best out of your SAP investment.
It's why we created Rev-Trac — an automated SAP change solution — a market leader for more than 20 years.
Benefits of SAP change automation
In the early days, we talked about automating transports. This meant Rev-Trac offered the capability to automate the movement of transports across multiple SAP solution landscapes with one (Rev-Trac) request.
As a result, SAP IT teams could efficiently manage change across complex SAP environments. Rev-Trac ensures consistent change management processes and provides an extensive audit trail of every SAP change.
It doesn't matter who is involved in the approval process or whether you work in the office or remotely.
With Rev-Trac, once approval is given at each stage, the SAP change or unit work migrates to the next step in the process until it's deployed in production.
This end-to-end change management automation allowed SAP IT teams to deliver faster and more frequent SAP releases.
Automation eliminates the manual tasks and bottlenecks of traditional change and transport management culmination in internal and external benefits that have a massive impact on businesses.
In today's digital business world automating your SAP change management reduces the risk of system downtime and increases productivity, enabling projects to be delivered on time and within budget.
Other benefits that allow you to get the best out of your SAP investment include:
More SAP change, more frequently
Lower cost of SAP change management
High-quality SAP change
Faster market response
Improved regulatory compliance
Frees up time and money for innovation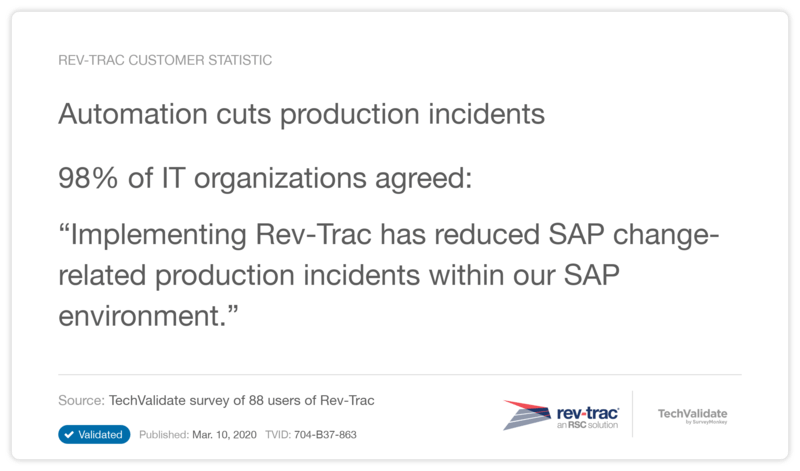 End-to-end SAP change automation
Automating change management tasks is more than replacing manual migration of transports and approval processes. Automation facilitates SAP DevOps and continuous delivery of change.
Over the last few years, we have seen a shift from simplifying SAP change management to SAP change orchestration.
In this scenario, the SAP change automation solution also acts as an orchestrator, automating the calling of other best-of-breed third-party tools involved in the change process.
The right tool is called at the right stage of the process every time, creating a unified DevOps toolchain.
Rev-Trac assists in the orchestration of an end-to-end process, integrating bi-directionally with a broad range of service desk and testing toolsets, including Jira, ServiceNow, Tosca, and LiveCompare.
Automating and enforcing many of the SAP IT change management tasks, and processes can significantly reduce the costs of managing change, typically between 35 and 75 percent.
The bottom line
Rapid ROI on software investment is the goal of every business. And SAP systems require a considerable investment in time and money before, during, and post-implementation.
Yet, it is possible to minimize costs and disruptions to operations and maximize business value from your SAP investment with a SAP change automation solution.
Automation your change management processes and eliminating your manual with a technology like Rev-Trac is crucial.
To learn more about how Rev-Trac can accelerate the business benefits from your SAP investment contact one of our SAP experts.